Last year we were successful in gaining planning approval to convert the early 19th century Grade II listed thatched timber framed barn adjoining our house into additional living space. This will double the size of our home downstairs and give us a new enlarged hall, additional open plan living and dining space, a new kitchen and utility room, and will allow us to convert the existing kitchen to a new office/bedroom with en-suite toilet/show wet room.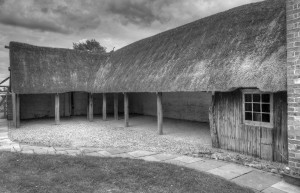 One of the conditions attached to the planning approval required the production of a photographic record of the barn (on 35mm black & white film!) before the conversion takes place. I undertook this work with the help of my good friend and neighbour (and resident photography expert) and the results form an excellent showcase of the building and its character. A gallery of images taken from scans of the film negatives can be viewed at the following URL:
http://www.darrenscott.com/galleries/barn
Work is due to start on the conversion very soon so I'll post more about the work and progress over the next few months.