I've just come back from my second full day event at Jonathan Palmer's PalmerSport complex at Bedford Autodrome – and it was absolutely awesome! Even better than the first time I visited 2 years ago.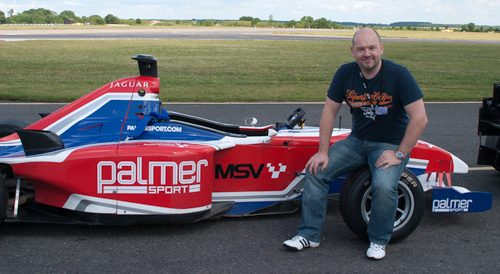 For anyone who's interested in driving and motorsport, this has got to be the best track based driving event available to the public. The first time I visited a couple of years ago it was on a corporate hospitality day, but this time round I paid for it myself. It's not cheap at just short of a grand, but worth every penny in my opinion. It's not like your run-of-the-mill "track day experience" type of day, this is full-on driving on 4 dedicated tracks in 6 highly tuned race cars (and a Land Rover Defender off-road) accompanied by highly competent instructors (Lewis Hamilton was a former instructor there!) who push you to your limits.
The cars for the 2011 line-up are:
Formula Jaguar "slicks and wings" single seater
(3.0 litre V6, 250bhp, 6 speed paddleshift, 0-60mph 3.1 secs, top speed 170mph)
Palmer Jaguar JP-LM 2 seat Le Mans sports car prototype
(3.0 litre V6, 265bhp, 6 speed paddleshift, 0-6mph 3.4 secs, top speed 167mph)
BMW M3 GTP
(4.0 litre V8, 420bhp, 7 speed paddleshift, 0-6mph 4.6 secs, top speed 185mph)
Porsche 911 JP3
(3.6 litre flat six, 320bhp, 5 speed paddleshift, 0-60mph 4.5 secs, top speed 175mph)
Renault Clio Cup racer
(2 litre 4 cylinder, 205bhp, 6 speed paddleshift, 0-6mph 5.2 secs, top speed 142mph)
Caterham 7 Superlight
(286bhp/tonne, 6 speed manual transmission, 0-60mph 4.8 secs, top speed 130mph)
Land Rover Defender
The line-up is almost the same as the last time I visited with one exception – the addition of the BMW M3 GTP to replace the Jaguar XKR I drove last time. I've got to say the M3 is a huge improvement over the XKR which I didn't particularly get on with last time.
Another addition over previous years is that of on-board video recording in several of the cars. At the start of the day you are given a PalmerSport branded USB memory stick which you keep with you throughout the day and hand over to the instructor when it's your turn to drive one of the cars with video capability, namely the Formula Jaguar, JP-LM, BMW M3 GTP and Caterham 7 Superlight. The video system has forward and inward rear facing cameras and also records telemetry data which is then superimposed over the video when playing it back using some player software provided on the memory stick.
The mix of people on this latest visit was very different to that of my last visit. As the previous event was a corporate hospitality day, there was quite a range of driving skills present, with the bias probably to the less skilled. This time round as the group was significantly smaller with more individuals as opposed to corporate hospitality attendees, there was a higher percentage of "petrol heads" and the skill level was much higher. I felt I'd done OK but maybe not as good as last time, however when I got home and compared my lap times with those from last time I was surprised to find that I'd got higher scores this time round (apart from on the Land Rover Defender, but I can live with that!) I came 4th overall in the JP-LM and I'm pretty sure I was around that ranking in the Formula Jaguar (they don't do a ranking in that car for some reason but comparing my best lap time and telemetry trace with the other top drivers I was up there with them).
I've uploaded a few photos from the day to Flickr – you can take a look at my photostream on this blog site or directly on the Flickr site.
All in all this was another amazing visit and I can't recommend it highly enough. Hopefully I'll be visiting again in the future 🙂